Socktastic!
The Christmas sock project is a little behind schedule, but I'm OK with that. Really I am. Score card - finished 2 pair, in progress 1 pair, to be done 2 pair. I still haven't mailed my cards or wrapped my gifts, or anything else I need to do before Friday, but all I want to do is knit.
Finished socks:
Dolly Llama - for my mom. These are my first-ever toe-up socks. I LOVE these socks. They are so cheery and bright. Plus they're super thick and warm. I hope she likes them as much as I do (or I might have to steal them back).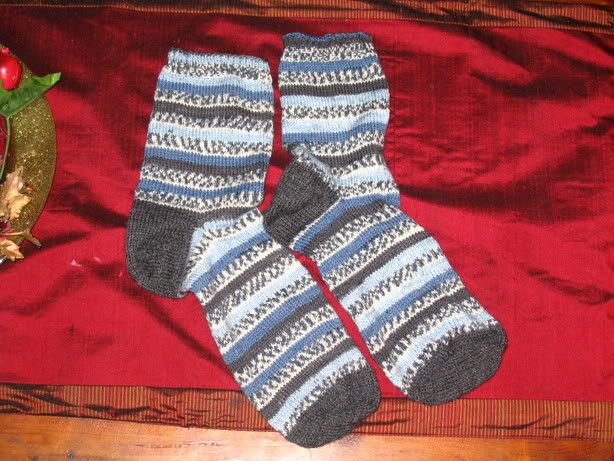 Brad's self-striping socks. Otherwise known as
the socks that wouldn't die
. These were my first socks with size 1 DPNs and real sock-weight yarn. They took forever. I really like how the contrasting toe and heel came out. But there are a lot of mistakes - like 2 different sized toes (not sure how that happened) and the mismatched stripes. But Brad likes them and they should be nice and warm.
Socks in progress:
These are for my dad. I really love this new yarn with the smaller stripes. I was mistaken thinking that the dark stripe was black, when it's actually dark grey, but the black toe still looks OK, I think. I hope I can get through these mistake free.
Future Socks:
OK, so maybe that's kind of cheating, but Dharia sent me a picture today of my custom-dyed yarn for my brother and SIL's socks. I am so excited. Yes, the black and gold is for the Steeler's. Dan will be thrilled with these. And the SIL will like the pink/purple, as they seem to be her favorite colors. Can't wait to start these when I get home.